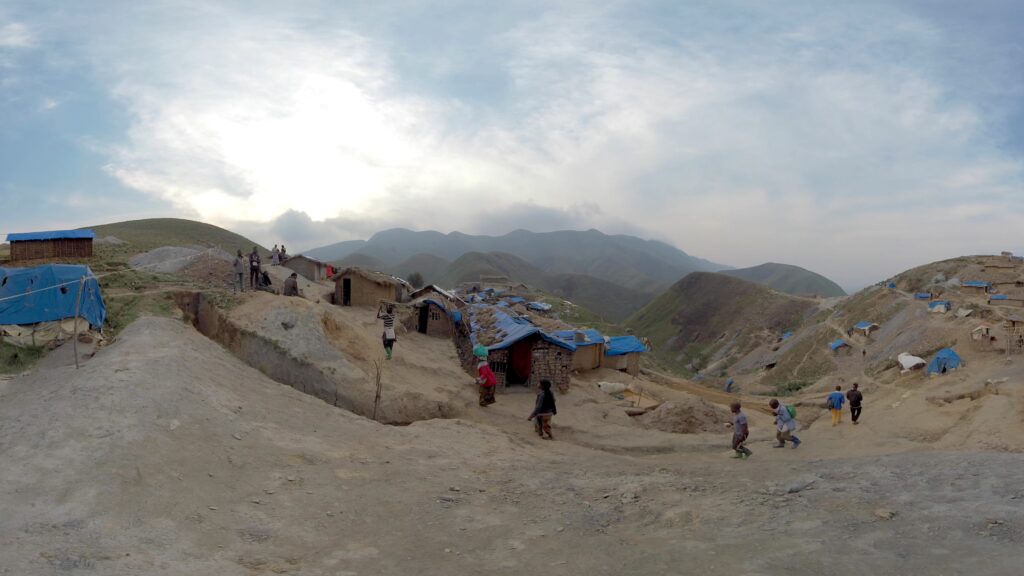 "Water & Coltan" deals with the consequences of mining on landscape and communities in West Germany and Democratic Republic of Congo. While "Water" sketches posthuman near-future scenarios for the former coal mining Ruhr area, "Coltan" transports its audience directly to the places of the struggle of women in artisanal coltan mining camps in South Kivu in Democratic Republic of Congo. Based on a shared research of the filmmaker with social worker Yasmine Bisimwa, lawyer Olande Byamungu and engineer Christian Muhighwain in the cassiterite and coltan mines of Chosho and ZolaZola, near Nzibira, South Kivu, the 360° documentary immersive experience, by referencing Homer's Tantalus myth, combines two local sides of one and the same violent global phenomenon: the extractivist relation to natural and human resources with its long-term consequences for the environment and society.
Daniel Kötter 
DE/CD 2021
52 min | German, English
Daniel Kötter

Born in Bergisch Gladbach in 1975, he has been working as a theatre and documentary film director for 20 years, often in performative and installative cooperation with other artists and in international and interdisciplinary constellations that have taken him to Africa, the Middle East, Southeast Asia and North America.
Films
Hashti Tehran 2017 | Stadt Land Fluss (mit Hannes Seidl) 2017 – 2019 | Desert View (mit Constanze Fischbeck) 2018 | Yu Gong 2019 | Rift Finfinnee 2020 | Water & Coltan 2021 | Landshaft 2023 (18. UX)
Credits
B: Daniel Kötter, Anna Ptak | K+S: Daniel Kötter | T: Marcin Lenarczyk, Eckehard Güther, Frederic Kitoko, Daniel Kötter | P: Daniel Kötter, Andrea Oberfeld, ehrliche arbeit freies Kulturbüro mit Leoni Grützmacher | V: María Vera (Kino Rebelde) | Mit Yasmine Bisimwa, Olande Byamungu and Christian Muhigwa