saturday 8 oct 6 pm & sunday 9 oct 5 pm | filmmuseum
No Wave: Harald Vogl's "New York Trilogie"
Born in Vienna in 1953, Harald Vogl became known as Harald V Uccello as a visual artist, among other things for his drawn "Cats of Atalante," a tribute to Jean Vigo, brought to the screen in Karl Heil's film of the same name. Vogl came to the Munich Academy of Arts in the seventies, where he studied painting with Günter Fruhtrunk. At the end of his studies, he showed white canvases, "empty pictures," hinge works to his already dawned intensive film work, which lasted until 1988. "The white paintings were for me an attempt to paint zero originality. The only thing that still bothered me was that the result was constantly visible hanging on the wall. The film met me there. The individual images were only visible for so and so many moments; no one could have them for themselves, they belonged to everyone." (From an interview with Tom Wimmer in the magazine "24," No. 1, Fall 1991)
Between 1975 and 1987, he created more than 20 unique films as immaterial paintings captured in this way, mostly in Super-8. "These films were no-budget films. An S-8 camera was easy to have, film stock was cheap, friends were on fire. You could get going without having to deliver explanations. You could make a finished feature film and show it at the cinema. Just like you paint a series of pictures and exhibit them. There were no scripts and long speeches. It was model building of freedom."
Vogl / Uccello soon went to New York. There he came into contact with the "No Wave" scene around the legendary Club 57 in East Village and became part of the post-punk period and the "Cinema of Transgression". In 1975 he showed his films for the first time in Jonas Mekas' "Anthology Film Archives", even before he created a New York trilogy with "Only You" (1981), "OK Today Tomorrow" (1983) and "Measure Taken" (1984), preceded by "Dear Jimmy" (1978), a No Wave classic. His friends participated as performers, including underground icon Patti Astor, Jim Jarmusch, himself of the same vintage as Vogl, who was just starting out in filmmaking, filmmaker and No Wave actor Diego Cortez, actor Gary Indiana (who later worked with Christoph Schlingensief and Udo Kier), and artist Bibiena Houwer, who later worked with Werner Schroeter. They all played the fictional film characters, at the same time playing themselves, and thus achieved a "peculiar presence" that is to be taken literally: "They are really there in their way, the peculiarity of their person. The fictional is completely absorbed in the documentary – or rather: one is completely absorbed in the other." (Johannes Beringer, "New Filmkritik")
Underdox shows the "New York Trilogy" in the copies restored by the Museum of Modern Art as a German premiere.
saturday, 8. oct 2022, 6 pm | Guest: Harald Vogl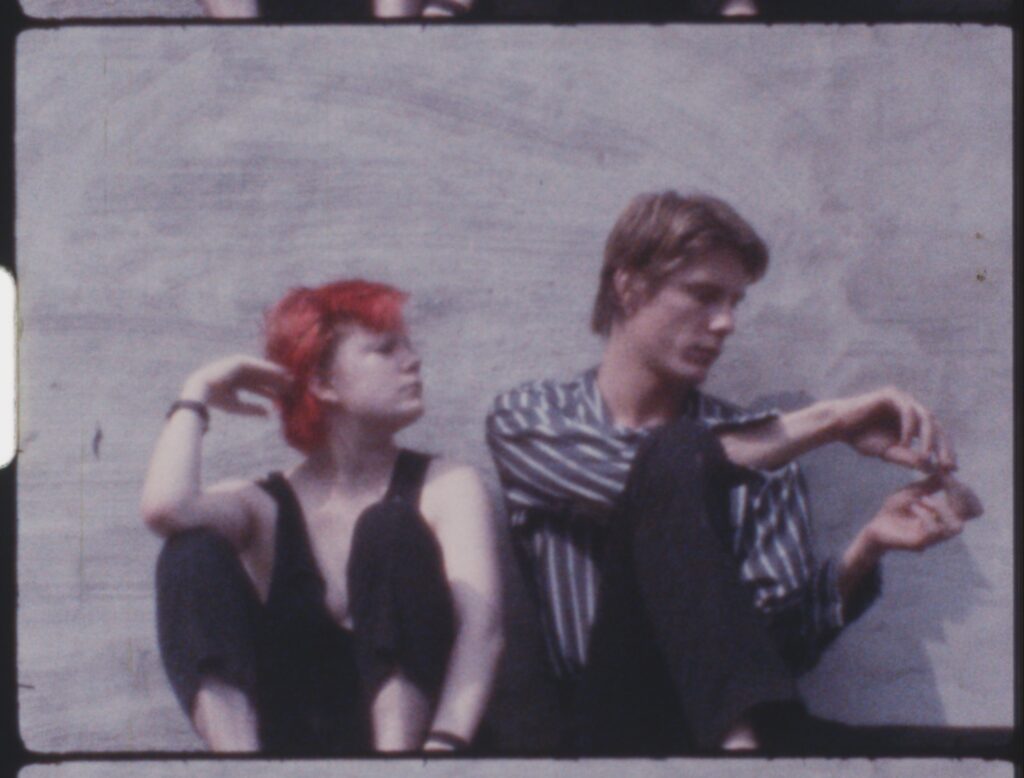 Dear Jimmy | USA 1978 | D: Harald Vogl | Sc: Harald Vogl | DOP: Harald Vogl, Seth Tillett | S: John Lurie | C: Anya Phillips, Peter Wiese, James Chance, David McDermott, Becky Johnston, Eric Mitchell, Patti Astor, Pat Place, Laura Kennedy, Kathy Acker, Duncan Smith, Trixie Salke, James Nares | 63 min | engl. OV | digital from Super-8
A filmmaker from Europe develops a film project in New York's post-punk scene, in which Mudd Club founder Anya Phillips refuses to appear as Anna Karina in another Godard remake. Actor Eric Mitchell speaks a manifesto for no-budget films, and interviews for the film-within-a-film feature the cumulative scene of the no-wave era.
Only You | USA 1981 | D: Harald Vogl | Sc: Harald Vogl, Bibiena Houwer | DOP: Harald Vogl | S: Bibiena Houwer | C: Patti Astor, Eric Mitchell, Diego Cortez, Jim Jarmusch, Gary Indiana, Earl Garett Jr., Raoul Mignuchi, Massimo Audiello, Susan Enslin, Diego Cortez, Chris Parker, Jim Jarmusch | 69 min | engl. OV | digital from Super-8
In this murder mystery, the genre elements are merely pretexts for a series of haunting, latently homo-erotic encounters. Here, film noir turns into the opposite: instead of casting shadows in nocturnal alleys, Vogl shows the blank sunny streets of Brooklyn, Manhattan and City Island in documentary style. With Jim Jarmusch and Diego Cortez as dispassionate police detectives.
sunday, 9. oct 2022, 5 pm | guest: Harald Vogl
OK Today Tomorrow | USA 1983 | D: Harald Vogl | Sc: Harald Vogl, Seth Tillett, Bibiena Houwer | DOP: Seth Tillett | C: Joan Waltemath, Terence Sellers, Arto Lindsay, Jef Bretschneider, Tom Wright | 90 min | engl. OV | digital from Super-8
A series of encounters among four sophisticated New Yorkers stages tense moments of youthful angst. The loosely spun narrative eventually gives way to the staging of the urban landscape, which becomes a performer in its own right.
Measure Taken | USA 1984 | R: Harald Vogl | B+K: Harald Vogl, Andrew Bergen, Joan Waltemath, Seth Tillett | D: Jessica Nares, Earl Garett Jr., Tom Wright, Jan Reds, die Einwohner von Mukden (Shenyang/ New Prosperity) | 81 Min | engl., chin. OF (engl. UT) | digital von Super-8
Vogl's last feature film completes the turn to essay film in the style of Cinéma Vérité. Anti-war protests, visitors to the Vietnam Memorial in Washington DC, union parades, marching bands, street dance, and residents of Manhattan's Chinatown kaleidoscope into a poetic-political study of bodies, violence, and the longing for utopia.