Born 1968 in Hanover. Lives and works in Munich and Berlin. Studied cultural education (University of Hildesheim) and fine arts (University of Applied Sciences and Arts Hanover). Since 1998 artistic and curatorial work, teaching assignments and cultural-political activities as chairman, board member and member of the board of trustees for BBK Munich, Kunstraum München, Art5 and feinkunst, among others.
Ausstellungen: LEERE, Kunstinsel am Lenbachplatz, Munich 2023 (E) | KUNSTKIOSKE, Platform, Munich 2023 | FLURFUNK, University of Witten 2022 (E) | LEINEKIESEL, feinkunst, Hanover 2021 (E/K) | Corner Surveillance, Artothek, Munich 2019 (E/K) PMB Art Prize, Barkenhoff, Worpswede 2018 (K)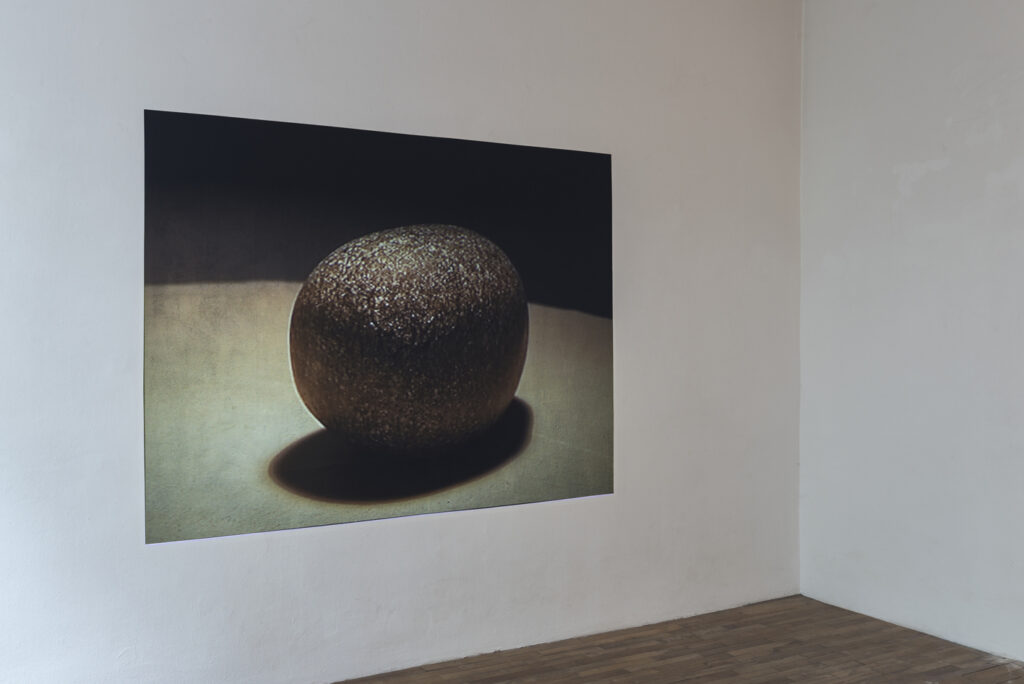 Findling (Erratic Block)
2020 ff. | Live-Video
1-channel closed-circuit video production | 24/7 (live video transmission) | 24:00 hrs.
Technique: mixed media | Dimensions: variable
Alexander Steig conceives mostly site- and theme-related closed-circuit video productions whose media-specific significance is the live transmission in the installation context. "Findling (Erratic Block)" follows on from his previous uneventful non-plot video images, which act cinematically as a planned sequence. The artist has taken a pebble from the Isar River, which flows close to the exhibition space, and now transfers this stone onto a black image background using video technology. In doing so, he creates a seemingly static moving image; in fact, the Isar pebble (or erratic block) rotates once around its axis in 24 hours. Steig shows an imperceptible moving image – two-dimensional painting and three-dimensional object are extended by the fourth dimension of time.