sunday 08 oct 5:30pm werkstattkino
guest: Peider A. Defilla
My films are improvisations, like this one, for example:
A hydrogen explosion in the Nevada desert caused the houses in Las Vegas 130 km away to sway. In a nuclear power plant, one person died and another was critically injured. Taking pleasure in my blamelessness, I tear off my suspiciously curtains and throw them out the window because I tell myself that wrapping paper is cheaper and more serious because it is not taken seriously.
Now it is certain: For our country, the worst dangers of the global recession have been averted! Two dead in explosion at Tel Aviv airport. There could be another war to keep the historical rhythm. 10 seconds of spot repeated 100 times gives a crystal clear analysis of the state of affairs without ingredients in the modern style, appealing to everyone.
We live in a world of snakes and squirrels on sunny southern slopes sparsely overgrown with lots of nut trees and abysses. The existential experience of absurdity as a provocation of human imagination and as reality results in a schizophrenia more unequivocal than Franz Kafka's judgement. Reality was far surpassed by all representations, no matter how extreme. He threw himself in front of the Viennese Waltz at 17:55 and was killed instantly. Genocide in silence.
Warning: no more writing here, writing forbidden. Simply crazy unspeakable, what to do.
Peider A. Defilla, 1976
Peider A. Defilla Born 1954 in Zurich, grew up in the Engadine, Matura in Vaduz. Studied music (organ, violin, composition) in Switzerland. Studied at the Academy of Fine Arts in Munich (painting & object art) and at the University of Munich (philosophy, theatre studies, phonetics and linguistic communication). 1987 founded B.O.A. Videofilmkunst. Participation of his films and compositions among others at Solothurner Filmtage, EXPRMNTL 5, Leipzig Film Festival, Berlin Biennale, musica viva, Munich Documentary Film Festival, Donaueschinger Musiktage
Films of the 70s (selection) et exspecto resurrectionem mortuorum 1974 | CO-INCIDENCE, PHANTASMA 1975 | Rauchen und Hantieren mit offenem Licht und Feuer verboten 1977 | Visual structure no. 1 1978 | Test-signale 1980
et exspecto resurrectionem mortuorum
1974 | 16mm 18 min | Opening contribution of the Solothurn Film Festival
Essay on a text by Karl Jaspers:
"One asks whether the specificity of our order of existence is not the greatest danger, whether in it a multiplication of human beings is possible which narrows the space for each individual to such an extent that finally humanity is spiritually suffocated in the mass, or whether a negative selection is possible which leads to a progressive deterioration and in the end, for biological reasons, leaves only an industrious species of human being which still functions for a while in the technical apparatus. It would be possible for man to perish from the means he creates for his existence." Karl Jaspers in "The Spiritual Situation of the Times" from 1931.
Hommage à Giovanni Segantini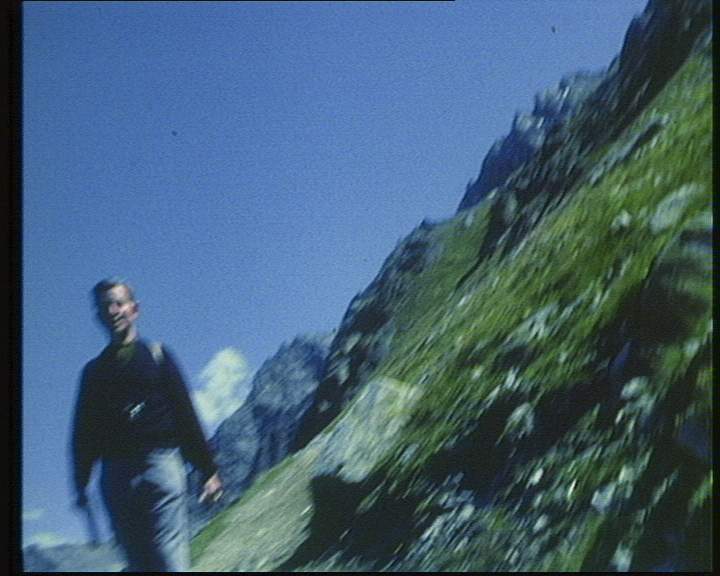 1975 | 16mm 5 min | silent
Painter, lived from 1858 to 1899, and last worked in his mountain hut above Pontresina in Switzerland, where he died of appendicitis. Today, a helicopter would fly him to hospital and who knows what else he would have painted.
Ulmer Cathedral and Eiffel Tower Paris
1976 | Super8 5 min
Two landmarks: Ulm Cathedral and the Eiffel Tower in Paris.
Video studies from Knokke-Heist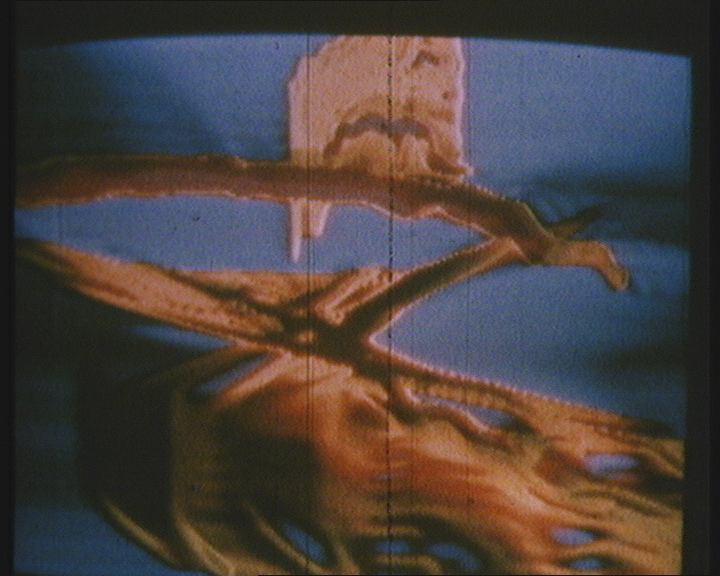 1976 | Super8 22 min | silent
The films were realised with the help of an analogue video synthesiser that was made available to me during the EXPRMTL 5 festival. The video synthesiser enabled both alienation of camera images and the creation of completely synthetic shapes and colours that could be moved by means of various modulators.
The colour overrides were particularly appealing, producing a colourful spectrum of film sequences. Because the video synthesiser did not offer the possibility of recording, I filmed the video sequences directly from the monitor with the Super8 camera.
Something new more often, or TV structure
1977 | Video 20 min
Nice to show the film on election day, it's my first video, black and white, consisting of TV footage and accompanying commentary.