Trilateral youth exchange project in Europe
BELDOCS Belgrad – FID Marseille – UNDERDOX München
First Corona, then the invasion of Ukraine, moreover increasingly totalitarian forms of government under the guise of democracy: no question, Europe is in permanent crisis mode. Add to that climate change, digitalization and social isolation: the future is raising new questions. What can film do about it?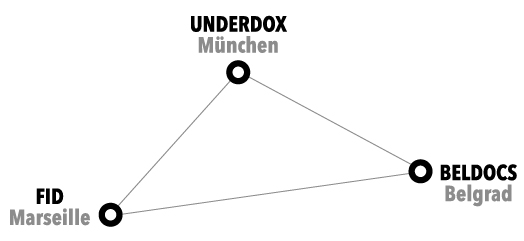 CONNECTING FUTURES will explore these questions in three project phases. Three film festivals invite ten young people from three European cities to an intercultural exchange. Political questions and the sensitization for democracy and human rights are in the focus as well as first steps of professionalization and possibilities of collective cooperation.
Short portraits of the UNDERDOX participants.
Trilateral Connecting Lines: Opening the Future
The three collaborative festivals of the project – Beldocs (Belgrade), FID Marseille, UNDERDOX (Munich) – invite you to participate in three phases of the project, each with a different focus. In addition to the workshops, there will be meetings with the filmmakers of the festival, city tours and opportunities for free exchange.
BELDOCS Belgrade | 10.-17.05.2023
PHASE 1: Political Reflections
Theme: "War, Militarization and the Rise of Totalitarian Regimes". The Serbian Film Festival addresses the pressing political issues of Southeastern Europe in Phase 1 of the project.
Workshops in cooperation with the Young Serbian Initiative for Human Rights (YIHR), with the feminist activist group "Women in Black" and on journalism.
Beldocs (since 2008) is one of the largest documentary film festivals in the Balkans. Its focus is on political and Serbian documentary film. It promotes courageous young filmmakers, pays tribute to established film greats and focuses on the further development of film language and film forms.
The participant's blog of Phase 1.
FID Marseille | 04.–11.07.2023
PHASE 2: Professionalization – Cinema Culture as a Profession
Theme: "Professionalization. The Marseille Festival initiates encounters with inclusive film (high) schools, including Kourtrajmé Marseille and CinéFabrique Lyon, as well as with the young talents of FIDCampus. Workshops on the practice of filmmaking (shooting workshop, montage workshop).
FID Marseille (since 1989) is considered a cradle for new film languages and a young cinema beyond commerciality. Originally a pure documentary film festival, it now also shows feature films with documentary approaches.
UNDERDOX München | 05.–11.10.2023
PHASE 3: Collectivity
Theme: "Collectivity." The Munich festival provides insights into the possibilities of working collectively, also with regard to dialogical and democratic cohesion and the continuation of aesthetics.
Workshops on media literacy, journalism and technology. With a filming workshop and meetings with artist collectives.

UNDERDOX (since 2006) is one of the most innovative festivals in Germany. Its focus is on works at the interface of documentary, fiction, experimental film. In the VIDEODOX section, young video art is shown.
Project partner
CONNECTING FUTURES was initiated by the Franco-German Youth Office as a joint project of the international film festivals BELDOCS Belgrade, FID Marseille and UNDERDOX Munich. The trilateral youth exchange project is financed by the Special Fund for Projects with Countries of Southeastern Europe (SOE) provided by the German Foreign Office and the Ministère de l'Europe et des Affaires étrangères.