Shoot Don't Shoot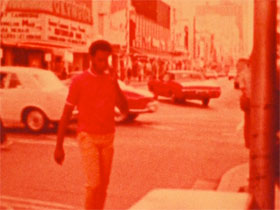 William E. Jones – USA 2012 – 5 Min.
R+P: William E. Jones – S: Paul Hill
"Shoot Don't Shoot" adapts a law enforcement instructional film that trains officers to decide by instinct whether or not to fire their guns. The suspect in this sequence fits the following description: "a black man wearing a pinkish shirt and yellow pants."
William E. Jones, born in Ohio in 1962, is an artist and filmmaker based in Los Angeles. After receiving his undergraduate degree from Yale University in 1985, he went on to complete his MFA in 1990 at California Institute of the Arts, Valencia.