Libellen mit Vögeln und Schlange

Trollsändor med Fåglar och Orm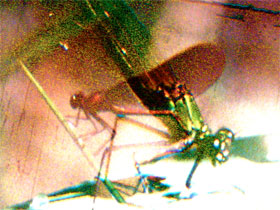 Wolfgang Lehmann – SE/DE 2011 – 60 min. – 16mm – silent
"Dragonflies with Birds and Snake" is not a documentation, it is a meditation—a purely visual space of vibrant images, a journey into a world that we have never had a chance to "enter." The title says it all; the work is an imaginative world of insects, consisting of images, combined with birds, as well as toads and snakes. The theme is the eternal cycle of life, birth, sex and death. The structure of the film's images is continual chance.
The film is a composition of images and contains several frames of 16mm film. Some images are self-recorded; others are taken from scientific film material and combined in a collage-like manner. Underpinning the editing of the film are notions of mosaics and repetitive music—that is, by constant repetition and change. The images therein are never actually repeated. Indeed, these "picture patterns" are change continually. Basically, a fantasy world of the realm of entomology emerges, supplemented with a hint of ornithology (insect- and birdwatching). The 16mm film strips were transferred to a conventional editing table; tape and dirt are visible and part of the aesthetic image.
– New York Film Festival
Wolfgang Lehmann, born in Freiburg/Breisgau, Germany in 1967. Since 1994 he has realised and produced his own films, many of which have been shown internationally at festivals and in museums. He lives and works in Stockholm, Sweden, and occassionally in Rümpel, near Hamburg.
Films (selection): Selbstbildnis als Akt; Studie Nr. 2 2002/03 – Der Klang des Meeres
(zusammen mit Telemach Wiesinger) 2005 – Libellen mit Vögeln und Schlange 2011