Journal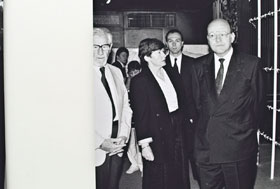 Sirah Foighel Brutmann & Eitan Efrat – Belgium 2013 – 16 min. – no dialogues – BluRay
D: Sirah Foighel Brutmann & Eitan Efrat –C: Mathias Windelberg – S: Laszlo Umbreit – Filmed in Wiels, Contemporary Art Center, Brussels – Photographs: André Brutmann – P: Argos
Special Mention of the International Jury at Oberhausen
"Journal" follows the production of narratives while piercing through points of view and lenses of three photographers. The film reflects upon the way spectatorship is performed, and how positions are taken in front of images, historical documents and the production of collective memory.
The film is a collection of one-shot sequences, filmed in a photography exhibition. The cinematographer, who followed a set parcours in the exhibition space, produced a multiplicity of visual Journals, from a dual point-of-view of a visitor and a documenter.
Sirah Foighel Brutmann (graduated P.A.R.T.S, Brussels, 2008) and Eitan Efrat (graduated Rietveld Academie, Amsterdam, 2011) are working in collaboration for several years, under the name of Til Far. They have created works in fields of video, film and performance. Their audiovisual works have been shown at filmfestivals as IDFA (NL), Media City (CN), Oberhausen (DE), Courtisane (BE), on television (Arte) and in exhibition as EMAF (DE) and Petah Tikva Museum (IL).
Films (selection): Narroweyes 2007 – Complex 2008 – Prrrride 2008 –| Find The Dancer 2009 – Printed Matter 2011 (6. UX)