The Forgotten Space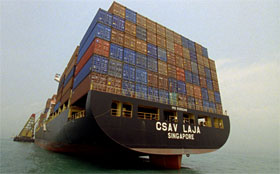 Allan Sekula, Noël Burch – NL / AT 2010 – 110 min. – DV / Super16mm – Englisch, Niederländisch, Indonesisch, Mandarin, Spanisch, Koreanisch
R+B: Allan Sekula, Noël Burch – K: Wolfgang Thaler – S: Menno Borerema – T: Joe Knauer – M: Eckehard Braun, Ricardo Tesi, Louis Andriessen – P+V: Doc.Eye Film Wildart Film
Orrizonti-Award Venice

www.theforgottenspace.net
In memorian Allan Sekula (1951-2013)
The "forgotten space" of Allan Sekula and Noël Burch's essay film is the sea, the oceans through which 90% of the world's cargo now passes. At the heart of this space is the container box, which, since its invention in the 1950s, has become one of the most important mechanisms for the global spread of capitalism. The

film follows the container box along the international supply chain, from ships to barges, trains, and trucks, mapping the byzantine networks that connect producers to consumers (and more and more frequently, producing nations to consuming ones). Visiting the major ports of Rotterdam, Los Angeles, Hong Kong, Guangdong province, and many places between, it connects the economic puzzle pieces that corporations and governments would prefer remain scattered. – Icarus Films
"As a writer, Allan described with great clarity and passion what photography can, and must do: document the facts of social relations while opening a more metaphoric space to allow viewers the idea that things could be different. And as a photographer he set out to do just that. He laid bare the ugliness of exploitation, but showed us the beauty of the ordinary; of ordinary, working people in ordinary, unremarkable places doing ordinary, everyday things." – Thomas Lawson, California Institute for the Arts
Allan Sekula, 1951, Pennsylvania - 2013, Los Angeles. From 1968 until 1972 he studied at the University of California in San Diego. He was professor at the California Institute of Arts in Los Angeles and worked in the fields of photography, installation and film. Sekula was one of the most acknowledged contemporary photographers. His works are part of many distinguished art collections as well as exhibitions world wide, such as Documenta11 (2002) and 12 (2007) and the Biennale in Venice.
Films: Performance under Working Conditions 1973 – The Lottery of the Sea 2006 (2. UX) – The Forgotten Space 2010
Noël Burch, born in 1932 in San Francisco, has been living in France since 1951. He graduated from the Institut Des Hautes Etudes Cinèmatographiques in 1954. While primarily known for his theoretical writings, he has always positioned himself as a filmmaker and has directed over twenty titles, mostly documentaries.
Films (selection): Correction, Please or How we got into pictures 1979 – Red Hollywood 1990 – Sentimental Journey 1994 – La Fiancée du danger 2005 – The Forgotten Space 2010