Arraianos

Eloy Enciso Cachafeiro – Spain 2012 – 67 min.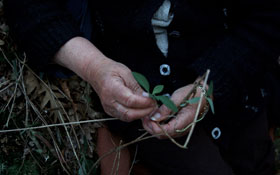 D: Eloy Enciso Cachafeiro – Sc: José Manuel Sande, Eloy Enciso Cachafeiro, Mauro Herce, Manuel Muñoz – C: Mauro Herce – E: Manuel Muñoz – P+S: Artika Films, Zeitun Films

HD Red – Galicisch, Portugiesisch

The inhabitants of a small village lost in the woodlands between Galicia and Portugal live and work in a quiet routine. From time to time, brief conversations arise amongst them. Surrounded by an endless forest, incapable of finding a way out, the Arraianos ask themselves about the reasons for their confinement, wondering if such things as sunlight, free will or a horizon really exist. One day, a stranger arrives; the possibility of change, a way out, a means of purification… What is left after the end, when all has been consumed?
Somewhere between reality and fable, the Arraianos play out their lives to make a portrait of the rural world and its obstinate resistance to disappear, a picture of life as it is.
Eloy Enciso Cachafeiro, born. 1975 in Meira, Galicia (Spain). Studied documentary film at the International Film School of San Antonio de los Baños, Cuba. Arraianos is his second feature film.
Films: La ponchera 2001 – Funkt the Wheel 2002 – La Clase 2003 – isa003 – Pic-nic 2007 – Arraianos 2012