The Act of Killing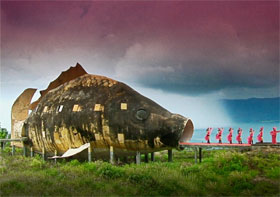 Joshua Oppenheimer, Christine Cynn, Anonym – Dänemark / Norwegen / Großbritannien 2012 – 159 min.

D: Joshua Oppenheimer, Christine Cynn, Anonym – C: Carlos Arango De Montis, Lars Skree, Anonym – E: Nils Pagh Andersen, Erik Andersson, Charlotte Munch Bengtsen u.a. – P: Christine Cynn, Torstein Grude, Werner Herzog, Errol Morris, Joshua Oppenheimer
Video – Indonesian, English

CPH:DOX 2012 – DOX:AWARD Berlin Film Festival 2013 – Panorama Audience Award Berlin Film Festival 2013 – Prize of the Ecumenical Jury !F Istanbul 2013- Prize of the SIYAD jury (Turkish Film Critics' Association) Danish Film Academy 2013 – Best Feature Documentary FICUNAM, Mexico 2013 – Audience Award ZagrebDox, 2013 – Movies that Matter Award One World, Prague 2013 – Best Film Geneva International Human Rights Film Festival 2013 – Gilda Vieira de Mello Prize Danish Film Critics Association – Special Prize 2013 (Sær-Bodil) Festival de Cinéma Valenciennes 2013 – Grand Prize Festival de Cinéma Valenciennes 2013 – Special Mention, Critic's Jury IndieLisboa 2013 – Amnesty International Award BelDocs 2013 – Grand Prix for Best Film DocumentaMadrid 2013 – First Prize of the Jury
Anwar Congo and his friends have been dancing their way through musical numbers, twisting arms in film noir gangster scenes, and galloping across prairies as yodelling cowboys. Their foray into filmmaking is being celebrated in the media and debated on television, even though Anwar Congo and his friends are mass murderers.
In "The Act of Killing", Anwar and his friends agree to tell us the story of the killings. But their idea of being in a movie is not to provide testimony for a documentary: they want to star in the kind of films they most love from their days scalping tickets at the cinemas. We seize this opportunity to expose how a regime that was founded on crimes against humanity, yet has never been held accountable, would project itself into history. – Joshua Oppenheimer
Joshua Oppenheimer, born in 1974, Texas, USA. He has worked for over a decade with
militias, death squads and their victims to explore the relationship between political
violence and the public imagination.
Christine Cynn has been directing documentary and experimental films for the past 14 years. For the last decade, she has been developing new ways to document the human imagination. She was a researcher on the UK Arts and Humanities Research Council's Genocide and Genre project.
FFilme (Oppenheimer): The Entire History of the Louisiana Purchase 1997 – The Globalization Tapes 2003 – The Act of Killing 2012