BEGIN BEGAN BEGUN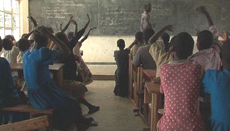 Sarah Vanagt | Belgium 2005 | 38 min.
Format: Beta SP
Material: 8mm, DV
Original language: Kinyarwana,Swahili, French, Dutch

Script: Sarah Vanagt
Camera: Anne Marie Lean Vercoe
Editing: Emiliano Battista

Sound: Sarah Vanagt


Production: Maarten Loix, VAF, DGOS
Distribution: Argos
Golden Key Award - Kasseler Dokumentarfilm- und Videofest 2006
April in Rwanda; the month of mourning in the new Rwandan calendar. While the country is commemorating the 10th anniversary of the genocide, children play games. Filmmaker Sarah Vanagt spent the Easter holiday in a "children's republic", governed by genocide orphans and refugee children growing up in the war-torn border zone between Rwanda and the Democratic Republic of Congo.
Sarah Vanagt , born in 1976, studied History at the universities of Antwerp, Groningen and Brighton and documentary filmmaking at the London National Film and Television School. Her work has been shown at Tate Modern (London), IDFA (Amsterdam), Transmediale (Berlin), Museo Reina Sofía (Madrid) and EMAF (Osnabruck), amongst others. She lives and works in Brussels.
Films: After Years of Walking 2003 | Little Figures 2003 | Begin Began Begun 2005 | Les Mouchoirs de Kabila 2005 (Installation) | First Elections 2006 | Power Cut 2007 (Installation) | Hoofd 2007 (Installation) | Ash Tree 2007 (Installation)
Exhibitions (selection): 2004 "Zona de mestizaje. Cine y vídeo de artistas belgas', Museo Nacional Centro de Arte Reina Sofía, Madrid | Doc House at The Other Cinema, London | IDFA International Documentary Festival, Amsterdam | 2005 Visions du Réel, Nyon | One World Film Festival, Prague | 2006 'Videozone 3', International Video-Art Biennial, Tel-Aviv | Miaca, Tokyo | 2007 Rencontres Internationales, Madrid