SQUATTERPUNK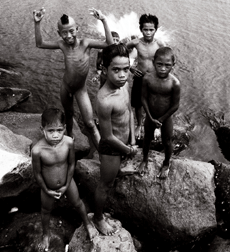 Khavn de la Cruz | Phil. 2007 | 79 min.
Format: MiniDV
Material: MiniDV
Original language: without dialogues

Script: Khavn de la Cruz
Camera: Albert Banzon
Editing: Lawrence S. Ang
Music: Bobby Balingit, Delakrus, The
Brockas

With Hapon & the Isla Puting Bato Community

Production: Filmless Films
Grand Jury Prize, Cinemanila International Film Festival

Squatterpunk is a daring and adventurous film shot in the kind of slum neighbourhood where police protection is rare. The film, energetic and funny in a place that is supposed to be depressing, does not exactly fit into the social awareness approach of a direct cinema documentary. The score of the film is loud if not deafening. And not in vogue. Director Khavn, the enfant terrible of Filipino cinema, brings us back to the 'no future' eighties of authentic anarchic punk. But it is consistent in its style of black-and-white-images and its rhythmic montage that is clearly driven by the music-based sound track. (...) Squatterpunk shows something of life in the slums in a quite special way. It shows how poor, forgotten and ignored children can have a good time. Playing and swimming in rotting garbage can apparently be fun. So it is not the cliché image of tears in a child's eyes that makes us aware of this disgraceful situation but the vitality and pleasure of the protagonists. In addition, maybe even stronger than pity, this pleasure enforces the inevitable message: no future. - Gertjan Zuilhof, International Filmfestival Rotterdam

Khavn de la Cruz, born in 1973, in Manila, The Philippines, is a very outspoken, experimental film maker with an unstoppable desire to explore and cross all boudaries. He is the most productive film maker in the Philippines and probably also far beyond. Since 2002 he has been director of the MOV Digital Film Festival.
Films (selection): Lata at tsinelas 2004 | The Family that Easts Soil 2004| Waiting for a Super Hero 2005 | G-string Kings 2006 | An Open Letter to all the Terrorists of the World 2006| Squatterpunk 2007 | Ultimo 2007