UN PONT SUR LA DRINA (The Bridge on the Drina)
Xavier Lukomski | Belgien 2005 | 18 min.
Format: 35mm Cinemascope
Material: 35mm
Original language: Bosnian, French

Script: Xavier Lukomski
Camera: Jorge Leon
Editing: Michèle Hubinon


Production: Cobra films
Verleih: Wallonie Image Production (WIP)
Best Shortfilm, Festival Punto de Vista de Pampelune 2006
First Prize (Shortfilm), Festival Documenta Madrid 2006
Grand Prize, Filmer à Tout Prix, Brussels 2006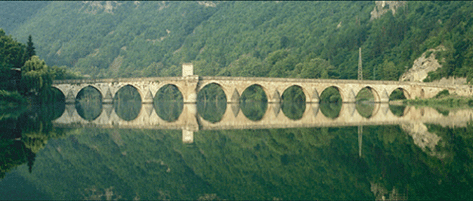 Haunting and spare, Xavier Lukomski's "Un Pont sur la Drina" reflects on the history of a wounded place. The Drina River and the bridge that crosses it at Višegrad hold great significance in the history of the Balkan region. (The Drina flows from Montenegro along the borders of Bosnia, Herzegovina and Serbia.) Nobel Prize-winning author Ivo Andric's novel "The Bridge on the Drina," from which this film takes its name, raised the Višegrad bridge to iconic status as a symbol of the centuries-old tensions between the Muslim and Christian cultures of these nations. Lukomski's film unfolds in a series of stately shots of the seemingly placid river and bridge at different times of day, a painterly landscape worthy of endless contemplation. Yet, as the film reveals, the scene's beauty alone can communicate nothing of the gruesome horrors recently witnessed there.

- Chris Gehman & Andréa Picard
Xavier Lukomski, graduated of the performing arts school INSAS in Brussels, begins his career as a comedian. He then quickly switches to the theatrical production with various plays to his credit as Director. Creator of the The Two Waters Theatre in 1984, he has also directed many drama training classes since then. He works also as film critique in many specialized magazines such as "Les Inrockuptibles", "Cinéphage" or "Andere Sinema" and produces one radio programme on France Culture.
Films: Ça va ?… ça va… 1996| Le Petit Bout du Monde 1998 | Un pont sur la Drina 2005