DOWNHILL SKIING IN SUMMER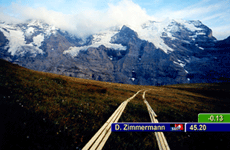 Daniel Zimmermann | CH 2006 | 6 min.
Format: Beta SP
Material: DV
Original language: German


Script: Daniel Zimmermann
Camera: Bernhard Braunstein
Editing: Thomas Bachmann
Sound: Roger Dupuis

Production: Samuel Huber, dz-productions
www.lauberhornrennenimsommer.ch

The Lauberhorn ski race, the world's longest downhill ski race, has been postponed until summer. The 10,000 wooden slats give their account of the perfect line which is highly sought after but never achieved in winter. They become the ski racers, and the newscaster is live on the scene to accompany the viewers as they travel at breakneck speed to set a new record.
Daniel Zimmermann , born in 1966 in Thun. Attends Fine Arts school in Bern. 1993 Mixed-Media projects and exhibits in Switzerland and abroad.
Films: Bobrennen im Sommer 2000 | Die 10 Schweizer 2002 | Lauberhornrennen im Sommer 2007
Exhibitions (selection): Olympia Bob Run St.Moritz Kunsthaus Biel 2000 | Die 10 Schweizer Biel 2002 | 2004 Kunstpanorama, Luzern | Fototage Biel 2005 | Lauberhornrennen im Sommer, Wengen 2006 | Liste Basel Kunstmuseum Thun
2007 | ArtDC Washington Convention Center 2007 | "Destinationen" e-Halle Basel 2007