FLOATING DUST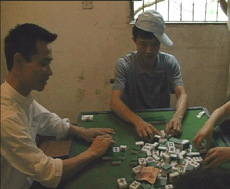 Huang Wenhai | China 2004 | 112 min.
Format: MiniDV
Material: MiniDV
Original language: Mandarin

Script: Huang Wenhai
Camera: Huang Wenhai
Editing: Huang Wenhai, Si Tughadun
Sound: Huang Wenhai


Production: Hot Wave Documentary Film Studio
Distribution: Fanhall Studio
German Premiere
"Floating Dust" takes place in a subdued world. It is the kind of documentary that has the stuff of fiction. A group of friends from a poor province try to make a killing, gambling their lives away. They play the MarkSix Lottery and watch the children's television show "Teletubbies" intently, convinced that the winning number is concealed in the show. Other occupations consist of mah-jongg, a massage parlor and casual prostitution. Nobody ever seems to win at anything. The era of ideology is over, the household has no gods and these people are caught in limbo, between promises of prosperity and the SARS epidemic, a plague that dashes all hope. (Joan Dupont, International Harald Tribune)
First part of the "Trilogy of the Masses" about the surviving in an absurd world
Huang Wenhai, born in 1971 in Hunan Province . He was graduated from Film College in 1996 and become an independent producer in 2001. In 2002, his 16mm fiction film"Suburbs of Beijing" took part in the L.A."New China Movie Show" which commemorated the 40 anniversary of French New Tidal Wave, and was selected as one of the most important (TOP 10) movies (non–publicity part) around the world.
Films: Suburbs of Beijing 2002 | In the Military Training Camp 2002 | Floating Dust 2004 | Meng You (Dream walking) 2005