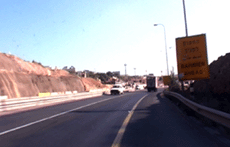 CHECKPOINT GUILO
Alina Abramov | France 2006 | 14 min.
Format: DVD
Material: MiniDV
Original language : No dialogues

Script: Alina Abramov
Camera: Alina Abramov
Editing: Alina Abramov
Sound: Alina Abramov
Production: Alina Abramov
German Premiere
A voyage with an undefinite durance, a travelling alongside of political borders and mental boundaries. Guilo, the checkpoint of the jerusalem quarter of the same name, is never passed. The border is the point of return, the isolation, the impermeable, the moment without passage. In an continous flow the travel seems to reach a certain destination, with the regalia of an ordinary journey, braking and speeding up, alongside the curves and the straight lines of the road and through tunnels. Hardly noticeable arise timeless inversions while driving through these tunnels, and you'll be captured by the feeling to be in a spatial and temporal labyrinth.
Alina Abramov, born in 1973 in Baku, Azerbaijan. She lives and works as video artist in France.
Expositions (selection) : Video Zone I, Tel Aviv 2002 | Action Lumière, Lyon 2004
Grey Building, Vancouver 2005 | Multipolaire, Leipzig 2006 | Vidéothèque Mobile, Rijeka 2006