REMOTE SENSING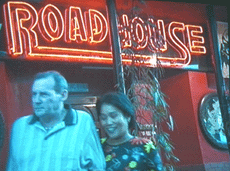 Ursula Biemann | CH 2001 | 53 min.
Format: DVD
Material: MiniDV
Original language : English

Script: Ursula Biemann
Camera: Ursula Biemann
Editing: Ursula Biemann
Sound: Ursula Biemann
Production: Ursula Biemann
Spiralling down from an orbital view captured by image satellites, the video-essay takes an earthly perspective on cross-border circuits, where women have emerged as key actors. Remote Sensing traces the rootes and reasons of women who travel across the globe for work in the sex industry. Voluntarily or not, women are moved in great numbers from Manila to Nigeria, from Burma to Thailand, from Bulgaria to Western Europe: female bodies in the information flow of global capitalism. The highly digital documents generated for this video link new geographic technologies to the sexualization and displacement of women on a global scale. They convey how powerful players like states, scientific complexes and military institutions are installing a sexuality that eroticizes hierarchies. Using the latest images from NASA satellites, the video investigates the consequences of the U.S. military presence in South East Asia as well as the European migration politics. - Ursula Biemann
Ursula Biemann is an artist, theorist and curator who has in recent years produced a considerable body of work on migration, mobility, technology and gender. In a series of internationally exhibited video projects, as well as in several books she has focused on the gendered dimension of migrant labour from smuggling on the Spanish-Moroccan border to migrant sex workers moving from the East to the West. Biemann's practice has long included discussions with academics and other practitioners, she has worked with anthropologists, cultural theorists, NGO members, architects, as well as scholars of aural and sonic culture. She researches at the Institute for Theory of Art and Design at HGK Zurich lectures at the CCC program of esba Geneva, and teaches seminars and workshops internationally.
Films: Performing the Border 1999 | Writing Desire 2000 | Remote Sensing 2001 | Europlex 2003 | Contained Mobility 2004 | Black Sea Files 2005