SONIC FICTION - SYNAESTHETIC VIDEOS FROM AUSTRIA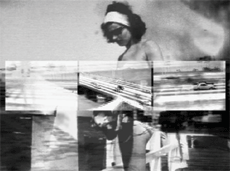 Aigelsreiter, Bruckmayr, Fruhauf, Goldt u.a. | Österreich 2002-04 | 65 min.
Format: DVD
Material: DV
Original language: without dialogues


Music: Aigelsreiter, fdc, Fuckhead, Janka u.a.

Distribution: Sixpack Film, Wien

In addition to the highly acknowledged Vienna electronic music scene there has been a constant development towards an independent visual electronic art scene. An astonishing number of videos, web sites, CD-Roms and audiovisual live acts has been created in this experimental space where audio and visual arts overlap. The difference between traditional audiovisual artworks with narrative, linear structure (such as video clips) and new progressive art forms will be clearly visible in the videos presented. In search of new forms of visual expression and communication artists start dissolving traditional rhythmic patterns and structures.