...BUT I STILL HAVEN'T FIGURED OUT THE MEANING OF LIFE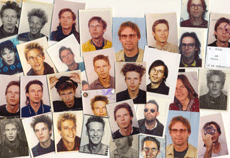 Jan Peters | Ger 1997 – 2007 | 90 min.
Format: Beta SP
Material: Super 8, MiniDV
Original language : Deutsch und Englisch

Script: Jan Peters
Camera: Jan Peters
Editing: Jan Peters
With Jan Peters
Production: Jan Peters
The Jan Peters sampler: Every year at his birthday, he filmed one reel of Super-8 material, later on he turned to DV cam. And in these two to three minutes of film he revealed something from and about himself. You may call it exhibitionism how each time he gabbles on, until finally the stained material announces the end of the reel. Sometimes enthusiastic, sometimes tired, often doubtful, he, like everyone else, quarrels with the fortune of his own doings. He questions the obtained and plans for the future.

"Of course Peters the filmmaker blurs the individual of the same name with his dense textual and visual system of symbols to create something else: Jan Peters the fictional character." (Claus Löser)
Jan Peters, born in 1966 in Hannover. From 1988 until 1999 he studied "visual communication" at the Hochschule für bildene Künste in Hamburg. In 1994 he co-founded the filmmakers-collective "Abbildungszentrum" followed by a production firm of the same name in 2001. Lives and works as filmmaker, radio playwright and video artist in Hamburg and Geneva.
Films: Schwarzärgerer 1995 | November 1-30 1998 | Dezember 1-31 1999
Ich bin 33 2000 | Wie ich ein Höhlenmaler wurde 2001 | Bye Bye Tiger 2004 | Wie ich ein freier Reisebegleiter wurde 2007 | Aber den Sinn... 2007