Lenka Richterová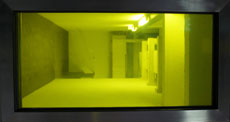 Reversal – 2012 – 2 Min.
Ein grünes Video, das einen minimalistischen Raum präsentiert, als einfache, rein visuelle Erfahrung – bis ein neues Element die räumliche Anordnung umstellt und beim Zuschauer einen "Vertigo"-Effekt bewirkt.
Lenka Richterová presents in her green video a minimalist, in itself absorbed space, a simple, pure visual experience. Through introducing a disturbing element within the work and through shifting perspectives, she is creating a vertigo effect within the viewers body.
Lenka Richterová, geb. 1985 in Tschechien. Studium der Kunst in Tschechien und an der AdBK, München.

Ausstellungen (Auswahl): Kunstmeile Mainburg , Mainburg 2010 – JETklasse, art&design School, Seoul 2010 – Katholische Akademie in Bayern, München 2011 – AdBK, München 2012