MIHO KURAMATA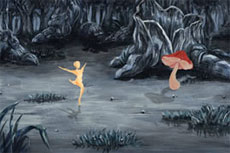 Rhythm | GB 2008 | 3 Min.
Night falls and moon light illuminates the forest floor. The graceful spirit of a mushroom dances into creation as if flourishes to life. As dawn arrives, the mushroom's life cycle is complete and the spirit is lost to the light…
Miho Kuramata, born in Niigata in 1984. After high school, she studied at Bunsai Art College in Tokyo for a year, then moved to the UK and started studying in Media Foundation Course in The Arts Institute at Bournemouth. She continued her study at the same school and graduated BA(Hons) Animation Production in 2008. After the graduation, she worked in a TV production company in London and worked on various documentaries. She is back in Nagano now and working on her personal project.
Films:
2005 | Umbilical Cord | 2007 | Mikky and me | 2008 | Fish | Rhythm