KASUMI HIRAOKA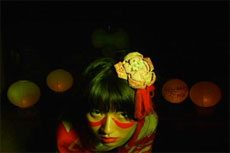 Red-light District Graffiti (Rakugaki Iromachi) | Japan 2008 | 28 min.
There is a red-light district in an obscure corner of a city. Business is booming for the outlandish prostitutes in the brothel. They begin to get tired of being prostitutes pampering the customers night after night.
Fashion!!! | Japan 2008 | 8 min.
Fashion is a popular figure in town. She goes out everywhere. However, suddenly she went missing!
This Moment, Infinity | Japan 2001 | 7 min.
Where would babies, girls and young naïve women end up when they grow up?
Kasumi Hiraoka, born in Osaka, Japan in 1981. She graduated from a faculty of literature at Doshisya University in 2003. She works in many different areas, as a film director, screen writer, editor, pole dancer and musician. She makes movies that cross borders with music, poetry and painting and turns film into Art.
Films (Selection):
2001 | Mutekina Otoshigoro | Hinomaru This moment, infinity | 2002 | Himitsukichi Romanticism | 2005 | Nozomi Ishiguro | 2008 | Red-light district graffiti Keppeki Fashion!!! | 2010 | The Primitchibu World